Old Parish Church (Village Kirk) New Street
the ministers who served the village kirk are as follows:
1801 William Stark
1806 Daniel Wilkie
1822 Hugh Dewar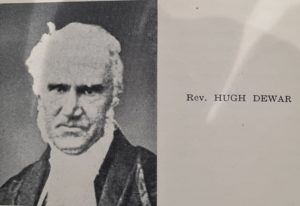 1861 James Dunn
Buried in St Ninans Kirkyard
1884 J Wyper Wilson
What is not clear is if Willan Stark or Wilkie served in the Old Kirk in the Kirkyard. .
In 1894 the poor condition of the Parish Church resulted in a survey being requested to investigate whether the church could be adapted to accommodate a growing congregation of around 900 worshipers.
Concerns had already been expressed regards the suitability and safety of the church which had served the congregation as the Parish Church for over a century, it was clearly apparent that the building would not sustain the needs of the congregation.
Whilst John Wilson 112 Bath Street Glasgow carried out survey it is not clear if the original engagement was to Mr John J Burnet architects who engaged John Wilson to carry out the work or if John Wilson worked for John Burnet. The following news article indicates that John J Burnet Architect Glasgow was engaged to carry out the work.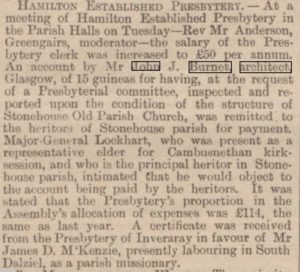 The following extract (which has been extracted from research by J R Young) is the report submitted by John Wilson to the management committee of the church for their consideration and provides a valuable resource, enlightening the reader as to the interior condition of the former church.

The Condition of the Parish Church, Stonehouse by John Wilson 112 Bath Street Glasgow
The Church is a plain rectangular building of the old square box type, with no architectural pretensions, and is situated near the centre of the town, with streets on all four sides. It is entered from two ends, and at each entrance stairs lead up to the galleries. The pulpit is placed in the centre of one of the long sides, and a very deep gallery surrounds the Church on the other three sides.
The seating is of a very primitive and uncomfortable form, with upright backs and narrow seat boards, and is much too narrowly spaced throughout. The front seat of the gallery of the only one with reasonable space, being 3 ft 11 in. wide, a few are 3 ft 5 in. wide, but the other average from 3 ft